BUILDING INFORMATION
For three decades the Scotiabank Saddledome has been Calgary's gathering place for premier events and the fun just keeps on coming. To answer questions for fans and promoters alike we've compiled information about the building to make your experience at the venue more rewarding.
From parking info to seating diagrams to the bare-all specifications of the rooms, this is your handbook to your next visit to the Scotiabank Saddledome!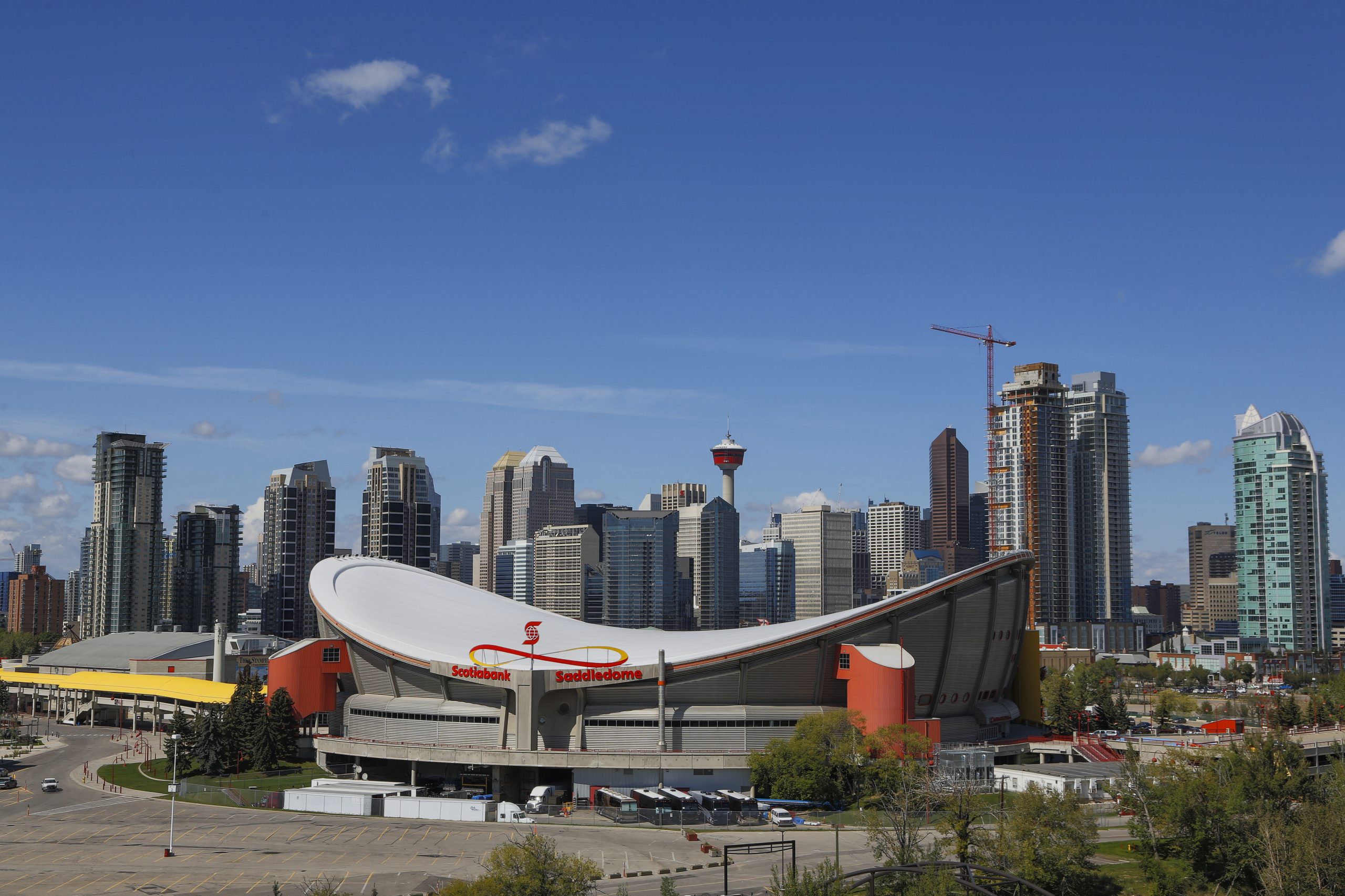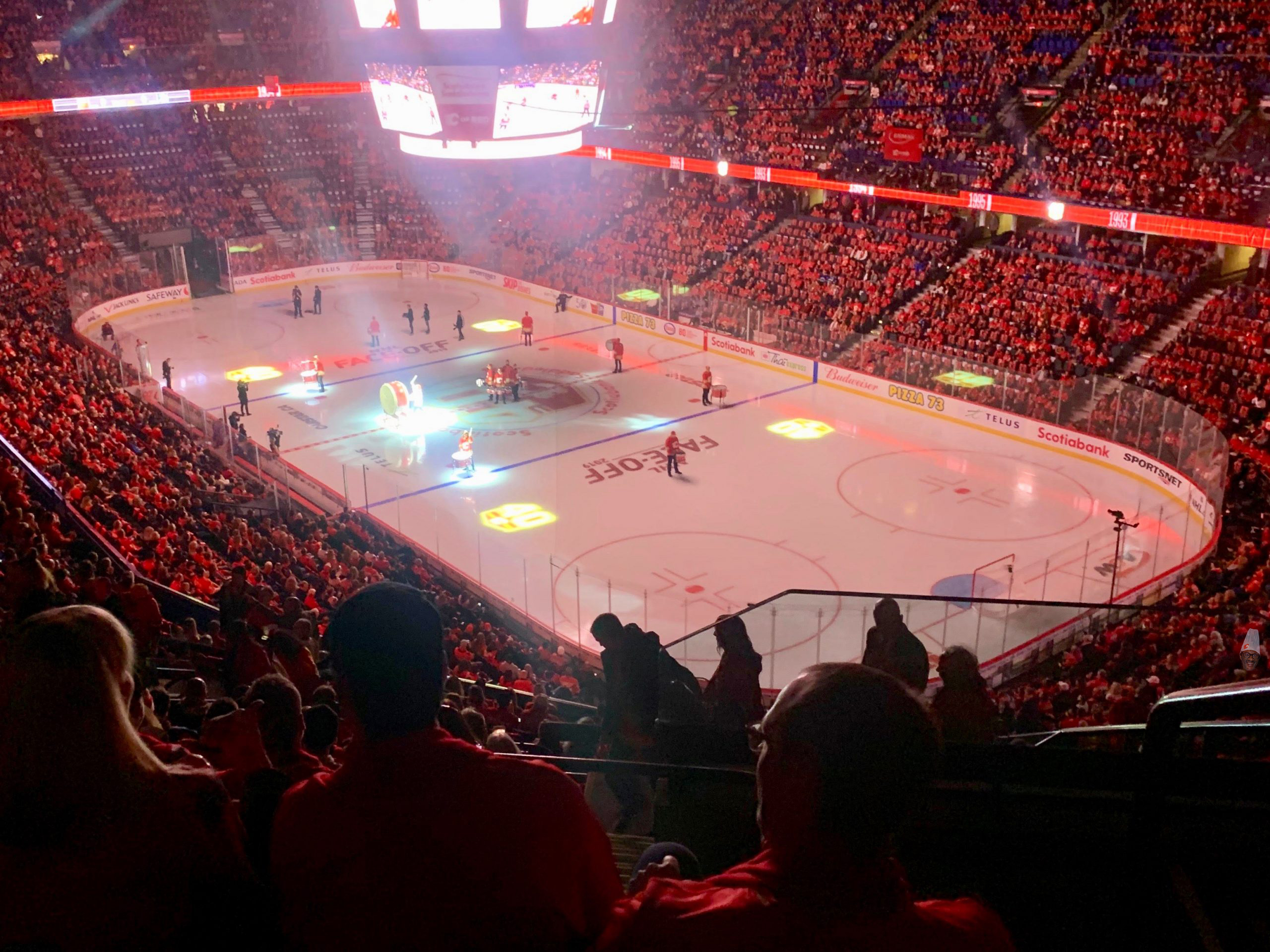 GENERAL INFORMATION
The Scotiabank Saddledome is Calgary's leader for entertainment excitement. Seating over 19,000 and over 150 events per year, it has something for everyone. It's home to the NHL's Calgary Flames, the WHL's Calgary Hitmen. and the NLL's Calgary Roughnecks. It has also played host to big ticket concerts, world-class tournaments, ice shows, circuses, conventions, and more.
1988 – Olympic Winter Games
1990 – Liberal Leadership Convention
1996 – Rotary International Convention
1997 – Labatt Brier
1999 – Franklin Graham Crusade
2000 – Bank of Montreal Canadian Figure Skating Championships
2000 – NHL Entry Draft
2002 – Nokia Brier
2001 – 2003 Canadian Country Music Awards
2004 – National Lacrosse League Championship Game
2005 – Royal Visit – Queen Elizabeth II and Prince Philip
2006 – Bank of Montreal World Figure Skating Championships
2007 – Sweet Adelines Convention
2009 – Tim Hortons Brier
2009 – His Holiness the Dalai Lama
2009 – Team Canada Pre-Olympic Games
2011/12 – International Ice Hockey Federation
                World Junior Championship
2012/13/14/15/16- We Day
2014 – CHL Top Prospects Game
2014 – Olympic Hall of Fame Gala Dinner
2015 – Tim Hortons Brier
2016 – Juno Awards
2017 – Canadian Country Music Awards
FLAMES ENERGY BOARD
The entertainment package at the Scotiabank Saddledome provides creative, high powered, entertainment concepts. Our team is dedicated to offering audiences the best entertainment experience in the NHL.
– A centre hung scoreboard can be specially programmed for your event and/or can also be retraced in the Saddledome's roof. The scoreboard is equipped with 4 Prostar Video Plus LED display panels, 12 Prostar RGB LED display panels, as well as top and bottom Pro-Ad RGB Ring displays.
– This broadcast quality production facility includes A, B, C, Edit Suite, full graphics and animation facility, digital effects, four in-house cameras and seasoned industry professionals in boh technical and productions.
– A state-of-the-art BOSE sound system affords the Scotiabank Saddledome the best acoustics of any sports facility in North America.
– Audiences enjoy the latest in indoor pryotechnic displays during entrance and goal celebrations. Fireballs designed specifically for the Calgary Flames' goal celebration are unique to the NHL.
The Scotiabank Saddledome has two in-house television studios with the capability to expand to four studios, if needed.
Eight permanent camera positions:

4 swing set cameras on west side.
1 permanent camera on north side.
1 permanent camera on south side.
1 reverse angle camera on east side.
option of adding additional camera between players boxes and at Olympic corner.
86 press seats in West Press box, 68 seats in East Press box.
SADDLEDOME FOUNDATION
The Saddledome Foundation is a nine member appointed Board established in the early 1980's to oversee the management and operation of the Saddledome. The Board is made up of three Directors appointed by the City of Calgary, three appointed by the Province of Alberta, and one each from the Calgary Olympic Development Association, Hockey Canada and the Calgary Exhibition & Stampede.
Through the Saddledome Foundation Amateur Sport Grant Program, the Calgary Flames contribute over $800,000 per year to amateur sport. This grant is divided equally between three organizations: the Parks Foundation, Calgary; CODA; and the Hockey Canada each of whom, in turn, distribute the money to amateur sport groups throughout Calgary.
Saddledome Foundation – (403) 777-3699
BOOK YOUR VENUE TOUR
Ever wonder how long it takes to convert the arena floor from hockey to a concert? Interested in seeing the Club Level and our luxury suites? Want to go behind the scenes to see where international artists and entertainers prepare for their event? If so, please come tour the beautiful Scotiabank Saddledome! This multi-use facility is one of the most innovative building designs in North America.
SPECIAL SERVICES
Lost? Need directions? Our Guest Services Centre is conveniently located at the main entrance, west concourse. Our trained professionals will take care of any issues or concerns you have, quickly and courteously.
Seating for guests with special needs was a major consideration in the Saddledome renovations. Seating with unobstructed sight lines for guests with limited mobility are located at the north and south ends of the arena, and on the Terrace level. In addition, all restrooms, concessions and public telephones have been designed for maximum accessibility.
Note: Wheelchair Concert Seating on the floor is not available due to fire regulations.