Jeff Dunham - Still Not Canceled
Sold-out global concert tours. Ratings-shattering broadcast specials. A best-selling author. A star on the Hollywood Walk of Fame. And a few Guinness Book of World Records set for good measure.
Ventriloquist Jeff Dunham is a comedy superstar and one of the world's most inventive entertainers. After graduating from Baylor University, he moved to Los Angeles to base his global touring and never looked back. The man Slate called "America's favorite comedian" has 11 record-breaking comedy specials to his credit – three were Comedy Central's most viewed specials of their respective years ("Me the People," 2022; "Minding the Monsters," 2012; "Controlled Chaos," 2011), and his "Jeff Dunham's Very Special Christmas Special," 2008, remains the network's highest-rated program of all time. His NBC primetime special, "Unhinged," ranked as the time period's top non-sports program on the Big 4, was rebroadcast six weeks later on Comedy Central to become its top-rated special of 2016. His most recent special "Me the People" arrived as the highest-rated stand-up special since "Jeff Dunham: The Unrehearsed Pandemic Special" two years ago, and the most-watched comedy special of 2022.
Dunham, "a dressed-down, more digestible version of Don Rickles with multiple personality disorder" according to TIME, can currently be seen on his Jeff Dunham Still Not Canceled tour.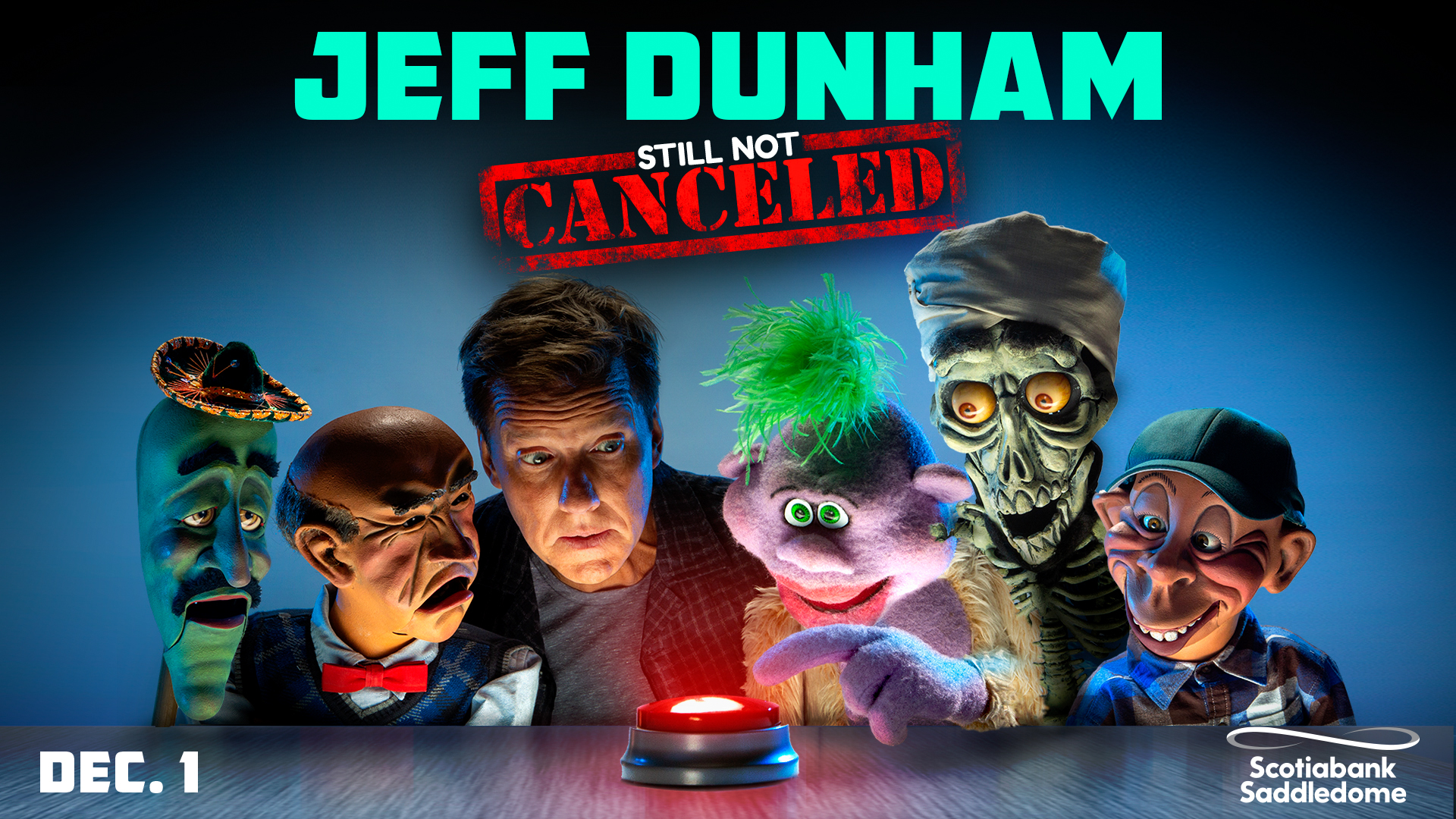 IMPORTANT INFORMATION ABOUT VISITING THE SCOTIABANK SADDLEDOME
Guests are encouraged to leave bags/purses at home or limit the size of their bag. Bags must be smaller than 14″x14″x6″ and must fit comfortably underneath your seat.
Please note that there is limited parking available around the Scotiabank Saddledome. Please consider using public transit to get to the venue. Learn More
The Scotiabank Saddledome is a cashless venue. All concession stands, retail locations, and 50/50 sellers use contactless terminals that allow debit, credit, Apple/Google Pay, and gift card transactions. Learn More
Moving forward, all future tickets sold for events at Scotiabank Saddledome will be Mobile Only Delivery. Tickets can be accessed and displayed via the Ticketmaster App.
The Scotiabank Saddledome recognizes the needs of guests with accessibility challenges. Barrier-free access is located on the northwest side of the 'Dome and accesses directly onto the main concourse. Visit our Accessibility page for more information.
Guests at the Saddledome are required to go through security screening procedures when attending an event; there are walk-through magnetometers at all points of entry and guests will be asked to remove all items from their pockets.